A picture of one atom of the metallic strontium suspended in fields has won a prestigious science photography decoration.
David Nadlinger's photo, Single Atom Within An Ion Harness, was captured within an Oxford University lab via the window using a vacuum space, using an ordinary digital camera.
Two metal electrodes held as it was coated using a laser the strontium almost motionless.
The image beat over a hundred entries to claim first place overall in the 2018 Engineering and Physical Sciences Research Council (EPSRC) science photography competition.
Mr Nadlinger explained: "The concept of being able to see one atom using the naked eye had struck me as a delightfully direct and circulatory bridge involving the minuscule quantum universe along with also our macroscopic reality.
"A back-of-the-envelope analysis revealed the numbers to be about my side, and when I set off to the lab with camera along with tripods one quiet Sunday afternoon, I was rewarded with this particular image of a little, pale blue dot"
Captured by Imperial College London using an atomic force microscope, scooping her place in the fantastic and weird category.
A entry was from Luke Cramphorn in the University of Bristol Robotics Laboratory, with a arm and hand taking a selfie using a stick along with a mobile phone, along with the photograph itself.
Professor Dame Ann Dowling, the president at the Royal Academy of Engineering and a number of the judges, said: "Not only do we have really strong, appealing photographs, the stories behind them regarding the research and why it is being performed are inspiring."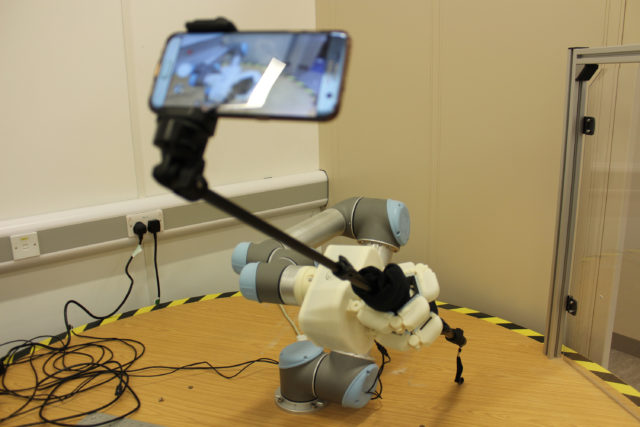 Fellow judge Professor Tom Rodden, the EPSRC's deputy chief executive, added: "Every year we're stunned by the quality and creativity of the entries into our competition and this year was no exception.
"They reveal that our investigators wish to inform the world about the beauty of engineering and science."